Laminate Flooring for Home, Office and Commercial Property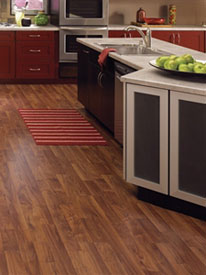 Laminate Flooring for home, office and commercial buildings need not be expensive to purchase or install. At East Coast Flooring we have one of the widest ranges of laminate flooring products from the top manufacturers. In fact, we have a showroom full of colors and styles of laminate flooring to choose from. We can match most any décor and have your flooring installed in no time. We can assist you selecting the laminate flooring that meets your need and budget.
Laminate and linoleum are among the most popular choices in flooring today. They are both affordable, attractive solutions for heavy traffic areas. Linoleum and laminate floors can both be installed quickly, providing an almost instant facelift to any room of a home or business.
Whether you need laminate flooring for a room, home, office or commercial property we are your first choice for quality, service and price. Our complete service includes removal and disposal of your old flooring, and full installation and clean up. Your satisfaction is our guarantee!
Whether you need carpet, tile, laminate, vinyl, linoleum flooring or hardwood flooring, we have the quality products and first class service to complete your project on time and on budget. At East Coast Flooring we offer professional estimating and installation services.
We serve these and other fine local communities in Southeastern Massachusetts.
Laminate Flooring Attleboro MA
Laminate Flooring North Attleboro MA
Laminate Flooring Plainville MA
Laminate Flooring Wrentham MA
Laminate Flooring Foxboro MA
Laminate Flooring Mansfield MA
Laminate Flooring Sharon MA
Laminate Flooring Franklin MA
Laminate Flooring Walpole MA
Our Services Include:
A Knowledgeable Staff
Sample Check-Out Service
In-home Consultations
Guaranteed Installation
72 Hour Installation Available
Financing Options
Complete Warranty Service
Free Estimates
Carpet Removal
Flooring Disposal
For your laminate flooring needs, East Coast Flooring has got you covered. Stop by our showroom located at 117 Washington Street in Plainville, or call us at (508) 643-0343 to learn more.
About East Coast Flooring
Established in 1987, East Coast Flooring provides flooring services to residential and commercial customers, as well as contractors and builders. We offer a wide selection of carpeting, tile, laminate, vinyl, Linoleum flooring and hardwood flooring to choose from. East Coast Flooring prides itself on our quick order and installation services and our expert sales consultants. Whether you have a small home flooring project or need to carpet 20,000 feet or more, we have the experience to get the job done right the first time.
Laminate Flooring from Home, Office and Commercial Property Available at East Coast Flooring
© 2010 East Coast Flooring