Hardwood Flooring - Beauty, Elegance, Durability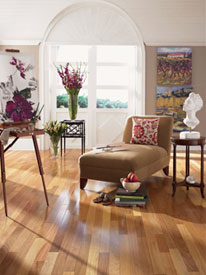 Nothing can match the elegance of gleaming hardwood floors. If you've been looking to upgrade your home or business with wood flooring, East Coast Flooring can install the floor of your dreams. We offer a wide selection of hardwood options, so stop by our showroom to consult with our expert flooring contractors. We'll help you pick the right floor for your needs and then provide expert installation all in one easy step, so you don't have to deal with a middleman.
Hardwood floors are an attractive solution when you need a beautiful floor that's easy to clean. That's why East Coast Flooring especially recommends wood flooring in kitchens, bathrooms, and hallways, although it's also a good-looking choice for any room of your home. Wood also has the added benefit of being hypoallergenic; while carpet traps dust and other allergens, hardwood makes it easy to clean away these irritants. And unlike newer, trendier flooring materials, hardwood flooring is a classic material with a proven record; it's durability and longevity make it the ideal material for beautiful floors.
Manufacturers