Tile Flooring - Elegant and Strong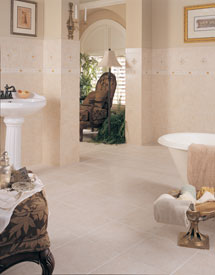 Tired of the old chipped tile in your kitchen? Ready to upgrade to ceramic tile in your master bathroom? If you're ready for a sparkling new floor, it's time to call the tile installers at East Coast Flooring! We have twenty years of experience in the business, so we know we can do your tile job right. East Coast Flooring offers tile in a wide variety of sizes, patterns, and styles so we're sure to have just the right material and look to suit your needs.
With East Coast Flooring, we do so much more than just slap tile on your floor. The old vinyl flooring or carpet will need to be ripped up, and the subfloor may need to be repaired prior to the tile installation. We then lay the tile in a thinset mortar before grouting, caulking, and sealing your new floor. The tile contractors at East Coast Flooring complete each of these steps with meticulous detail, ensuring that the ceramic will bond thoroughly to the subfloor and creating a watertight finish.
Manufacturers